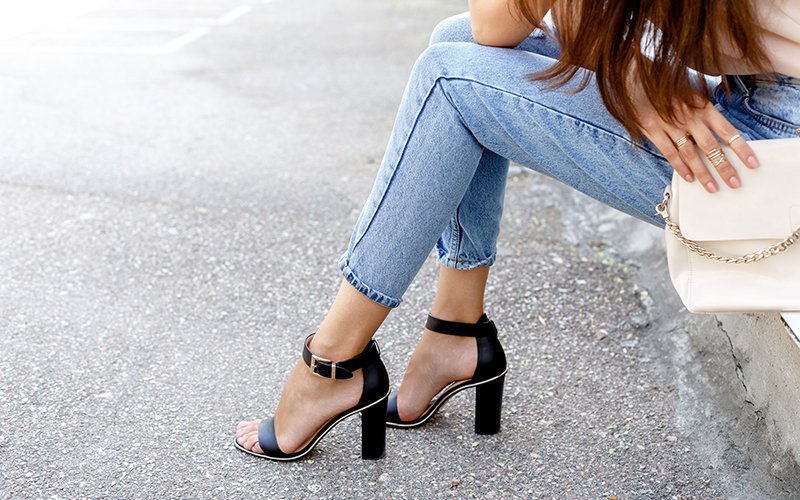 Jeans – can you think of a more iconic wardrobe staple? We can't.
Since they first launched 147 years ago, denim jeans (and not just the blue ones) have been through more makeovers than the Kardashians, and yet they've managed to remain timeless (unlike the Kardashians…).
From the straight leg to the skinny, bootlegs to bell bottoms, low cuts to high-rise, and let's not forget the mom jeans that recently made an uber-trendy comeback (we don't remember them ever looking this good on mom!) There's not a shape nor a style that denim hasn't taken over the years, and it seems in 2020, the denim trend is stronger than ever.
This year, every big designer as well as the high street fashion brands, have embraced the much-loved fabric in a variety of refreshing ways. We're seeing vintage washes – from dark rich hues to greys and acid bleach – 70s flares, and even cropped denim culottes.
The boyish jean is a hit once more, and ripped and distressed jeans are back in the limelight but this time, paired with tailored blouses and blazers. Catwalks around the world are ablaze with the balance between casual and sophisticated denim fashion.
Anything goes when it comes to denim, but we've pulled together a fail-safe list of our top 5 favourite denim trends for 2020 below. Perhaps one of them is yours!
Wide & Proud
Full-on flares are living their best life this year. Whether flowy and relaxed all-round or tight on top with a dramatic 70s-style bottom flare – take your pick, because you can't go wrong with either.
We've Got the Blues
Pantone chose Classic Blue as the 2020 Colour of the Year and we're seeing this come through strongly on the denim front. Blue is back with a vengeance baby! From ultra-dark to a more worn-in, light rinse, we've never been happier whilst have the blues.
All Seams Good
It's all about the stitching and seams and subtlety is out the window this year. We're seeing loud and proud seams not just on the sides of the jean legs, but full front and centre.
Pretty Pleats
Pleated wastes are the way forward in 2020. Paired with a super-dark blue wash, this combo is officially our new favourite formal.
Double Denim
No we're not talking Britney and Justin circa 2001, we've raised our denim game since then. Think soft blue bottoms paired with a darker shirt and a subtle classic white Tee underneath. We're channeling full on California vibes with this look.